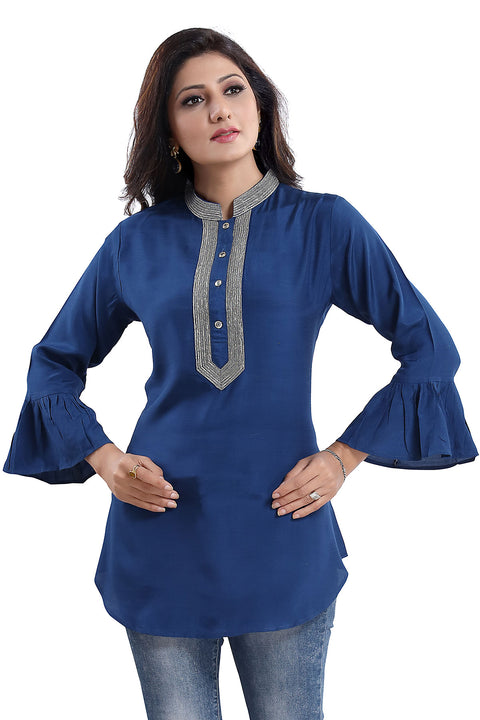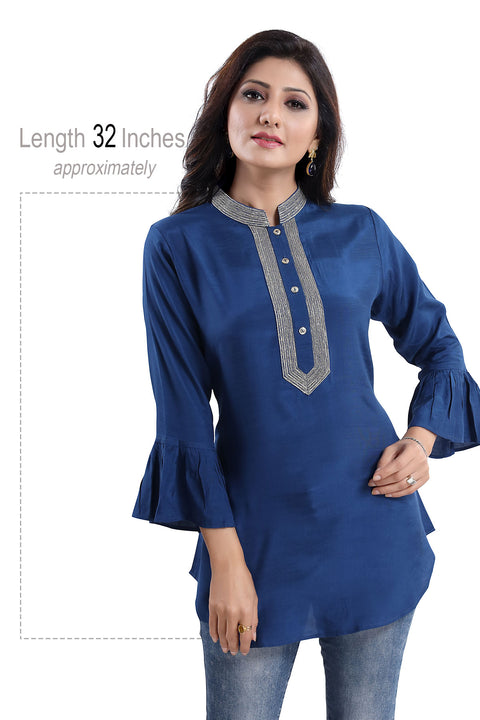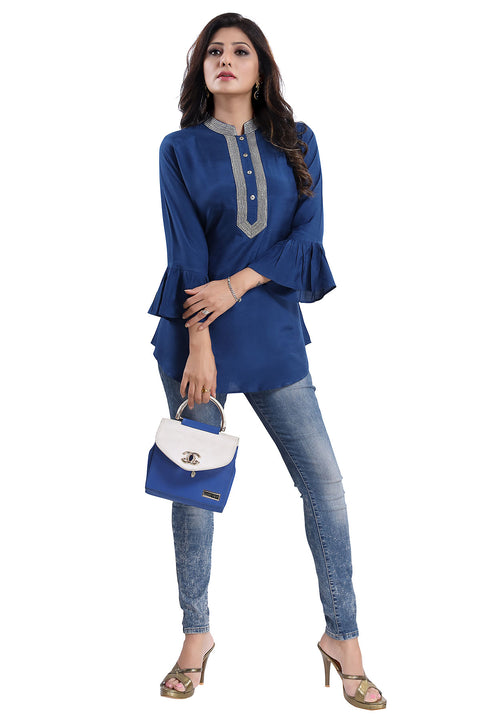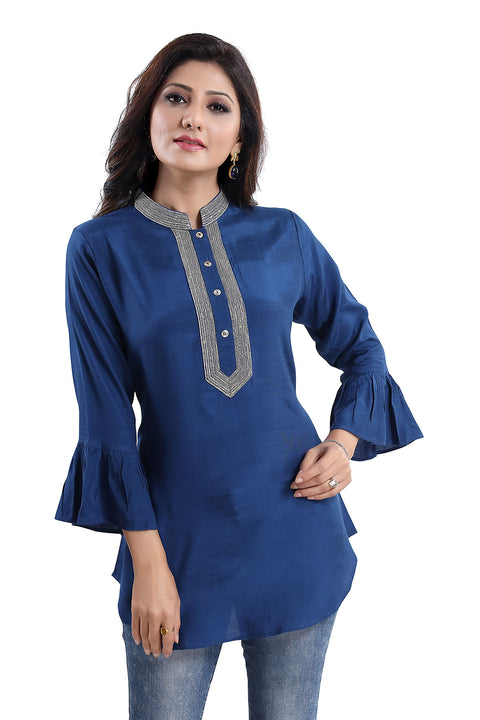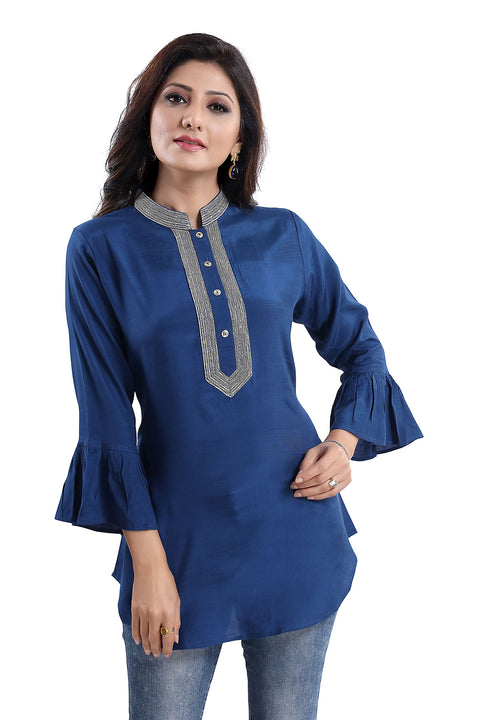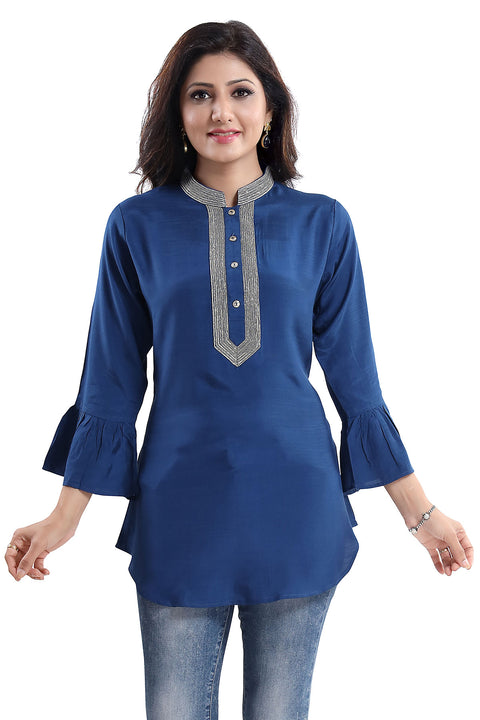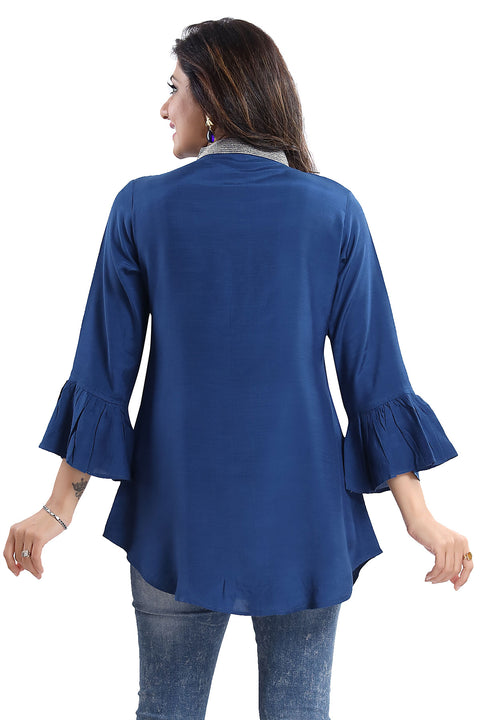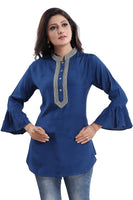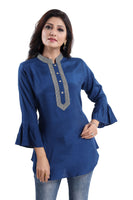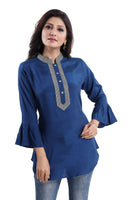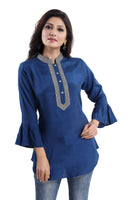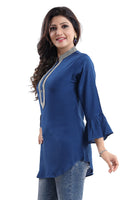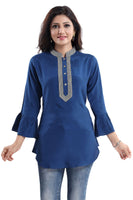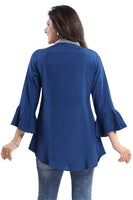 BLUE SHORT TUNICS WITH NECKLINE EMBROIDERY
Overview
Blue short tunics with neckline embroidery are a fashionable choice for various occasions. These tunics typically feature a shorter length, reaching anywhere from the hip to the mid-thigh. The embroidery on the neckline adds an intricate and eye-catching detail to the garment. Here's some information and styling tips for blue short tunics with neckline embroidery:
Fabric: Blue tunics can be crafted from a variety of fabrics, including cotton, silk, chiffon, or blends. Choose a fabric that suits your preferences and the occasion you're dressing for. Cotton tunics are great for casual and everyday wear, while silk or chiffon tunics add a touch of elegance.

Neckline Embroidery: The embroidery on the neckline can range from delicate and intricate patterns to bold and vibrant designs. It can feature threadwork, beads, sequins, or other decorative elements. The embroidery adds a unique and stylish element to the tunic, enhancing its overall appeal.

Styling Tips:

Pair with bottoms: Blue tunics with neckline embroidery can be paired with various bottoms such as jeans, leggings, or skirts. Opt for white or neutral-colored bottoms to let the tunic be the focal point.
Accessorize: Enhance the look with accessories that complement the tunic's embroidery. Choose earrings, bracelets, or a statement necklace in coordinating colors or metallic tones.
Footwear: Depending on the occasion, you can wear sandals, flats, or heels to complete the outfit. Consider the formality of the event and select footwear accordingly.
Layering: In cooler weather, you can layer the tunic with a light cardigan or jacket. Choose a complementary color that doesn't overpower the embroidery.

Occasions: Blue short tunics with neckline embroidery can be worn for various occasions, including casual outings, parties, festivals, or even beach vacations. The versatility of the tunic allows for both dressed-up and relaxed styling, depending on the accessories and bottoms you choose.
Remember, fashion is a personal choice, and you can experiment with different styles and combinations to find what suits you best.
BUILD YOUR BRAND
Create custom sections on your product pages to enhance user experience and increase conversions.
Buy Now